Water Filter World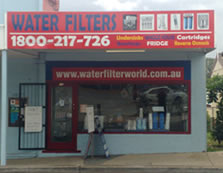 My name is Byron Cottone, owner of Water Filter World, and I have now been in the Water Filter and Water Saving Shower Industry for over 12 years. Much of Australia is in the worst drought of it's history. I think water saving showers are a major contributer to a comeback for our dams. What we need is comfortable 3 star rated showers and that's exactly what we have. My plan is to use my vast knowledge of the industry to pinopint exactly what your individual concerns are about your water supply, and give you the best possible system/shower to suit your needs and application. Water Filter World is Brisbane based, Water Filter World has a retail shop front at shop 2/212 Gladstone RD Dutton Park.
These days however Water Filter World has made a big move online as I see a need for online sales service in our industry, but this being backed by a highly efficiant sales and service outlet makes most people happier. Give Water Filter World a try and you will find that we are the best in the industry and our on-line prices are unbelievable. If you want to talk to a real person just give us a call (on 07 3846 5668) or an email (support@waterfilterworld.com.au) and we will gladly chat with you about any of your needs or questions. Purchasing online with us is 100% safe and secure we offer Paypal, cheque & money order or, Mastercard and Visa. All of Water Filter World's deliveries will be shipped within 14 days nationally but will normally arrive within 3 to 4 days of ordering. Please check out the Water Filter World site, its packed with information, and buy online and save big money.
Have a great day, Byron.