Water Filters | Perth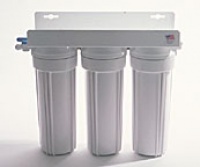 With so many pristine and unpolluted water sources, Perth enjoys some of the best drinking water quality in the world. Regular monitoring and surveying is conducted by the Water Corporation to ensure compliance with deemed safe levels of microbes, metals and other impurities. However, if you're looking for the ultimate clean and crystal clear taste with nearly zero trace minerals, you can go one step further.
At WFW, we regularly ship water filters to Perth based customers. We stock a wide range of different systems to meet different capacity and filtration needs; whether you're just looking for a small countertop system for your drinking water, or a whole house system so that all your water is pure, we can help. Budget friendly solutions are available in each category; after all, it shouldn't cost the earth to get beautifully pure water on tap.
We are proud to also be a leading stockist of specialist water filters and components for caravans, coffee machines, boilers, fridges, aquariums and more. If your filter isn't working the way it used to, or if you're looking to upgrade to a more efficient unit, chances are we can help! With decades of experience in the industry, we can easily answer any technical or practical questions you may have.
Browse the menu to the left to get started. If you need help ordering, please call us (free call) on 1800 217 726 during business hours, AEST. Alternatively, you can contact us online. We offer express shipping to Perth, so you needn't wait longer to receive your new filtration supplies.
For new clients we recommend purchasing a Reverse Osmosis filter and Alkaliser and we offer a super special package that includes the quick-change reverse osmosis filter with a PI alkaliser and includes free Delivery Australia Wide!